Initially launched in June 2007 [1] -- 16 years, 4 months to date -- by longevity Dropbox is one of the most established players in the file cloud storage market. Dropbox emerged from the prototypical Silicon Valley (SV) unicorn path, with funding from SV incubator YCombinator [2] and was showcased in major SV events like TechCrunch50 [3].
Dropbox states it has over 500 million users as of March 2016 [4]. Dropbox offers file cloud storage plans ranging from free in perpetuity -- as in you'll never-ever have to pay a dime -- crossing over to plans from $9.99 (USD) to $75 (USD) a month for professional and small businesses, ranging all the way up to enterprise customers that require custom tailored pricing for varying amounts of users and storage.
Dropbox storage
Dropbox offers three different storage tiers each corresponding to their three different types of accounts: Basic (free), Pro and Business.
Basic (free).- 2 Giga Bytes (GB) . More space available by inviting friends (e.g. 500 Mega Bytes (MB) per friend) and performing other actions (e.g. Completing profile). Maximum free space capped to 19 GB, after which you must upgrade to Pro or Business account.[5].
Pro.- 1 Tera Byte (TB) or 1000 GB. Requires upgrading to Business to get more space [6].
Business.- 5 TB. Requires adding more Business licenses to get more space. [7]
The 2 GB storage offering for a Basic account is among the lowest for free file cloud storage services. Although you can gain additional free storage for up to 19 GB, you'll need to invite many friends to Dropbox to reach this amount of free space. If you're looking for bare storage capacity, Dropbox's free tier is a weak choice compared to other providers -- look over the free cloud storage options for better bare storage alternatives.
Drobpox's paid storage capacity is priced in the $9.99 (USD) to $12.50 (USD) range per month per TB, which places it in a competitive spot in the price per unit among paid file cloud storage providers. The upgrade process for storage capacity in Dropbox's paid tiers is rather simple: Because you can't purchase piecemeal storage (i.e. buy 1 or 2 TB), Dropbox requires you always upgrade in plan in order to get more storage.
If you need up to 1 TB, then $9.99 (USD) a month for a Pro account gets you up and running. However, if you need more than 1 TB of Dropbox cloud storage, then you'll be forced to upgrade to a Business account which costs $12.50 (USD) per month per GB.
The caveat with a Business account is not only that the price per TB is more expensive, but that it must also be purchased for a 5 TB minimum, which means it will set you back $75 (USD) a month. Here it's important to note the $75 (USD) a month price tag for a Business account is for more than just 5 TB of storage, it includes storage sharing for a team of 5 users, as well as some advanced features that are only available in this type of account.
Nevertheless, it's important to understand that if you're a lone storage wolf requiring more than 1 TB of storage with Dropbox, you'll need to shell out substantially more in bulk whether you require sharing storage with a team or need any advanced feature. If you fall beyond this 1 TB storage threshold and don't need all the additional Dropbox bells & whistles, look over the paid cloud storage options for more cost effective raw storage alternatives for files.
But what happens if you require more than 5 TB of storage with Dropbox anyway ? This is an interesting situation where the Dropbox sales page states Business accounts get "As much space as needed" and there's "unlimited storage (just contact us for more storage)" [8]. But let's not be disingenuous, Dropbox is a business and as such can't offer unlimited anything.
Deep in their help section [9] and based on a series of online written experiences, there's a more reasonable story about "unlimited storage" with Dropbox Business accounts. In order to get more than 5 TB of storage with a Dropbox Business account, you must purchase additional licenses for the same Business account. This means that to get 10 TB of storage it costs $150 (USD) a month or twice what 5 TB of storage costs, which also duplicates the account's other resources (e.g. $75 (USD) provides storage sharing for 5 users, $150 (USD) provides storage sharing for 10 users).
In summary, for free Dropbox gives you between 2 GB and up to 19 GB of file cloud storage, the latter limit with a lot of marketing effort toward your friends & family. If you're willing to pay, Dropbox sells you the first 1 TB of cloud storage for $9.99 (USD) per month and if you want more it sells you storage in 5 TB increments at $12.50 (USD) per month per TB, which comes to $75 (USD) for every 5 TB of additional storage.
Dropbox bandwidth and requests
Dropbox has two bandwidth consumption tiers which are coupled with the amount of requests an account can receive. One tier corresponds to paid accounts (Pro and Business), while the other corresponds to free (Basic) accounts:
Free (Basic) accounts.- 20 GB per day for all link and file traffic, as well as 100,000 downloads per day for all links [10].
Paid (Pro and Business) accounts.- 200 GB per day for all link and file traffic, as well as unlimited downloads per day for all links [10].
To give you a better feel for how much these bandwidth/requests ratios can take you, the following table breaks down a couple of concrete examples.
| File size | Free account daily access limit | Paid account daily access limit |
| --- | --- | --- |
| 209 KB image file (e.g. 1,366x768px JPEG image) | 100,000 times (Reaches bandwidth & request daily limit) | 1,000,000 times (Reaches bandwidth daily limit) |
| 10 MB video file ~17 seconds in length (e.g. 10.19 MB WebM video) | 2,000 times (Reaches bandwidth daily limit) | 20,000 times (Reaches bandwidth daily limit) |
The previous examples should give you a good idea if these Dropbox limits suit your file cloud storage needs. Needless to say if you expect any type of viral social media sharing, Dropbox is not a very good option as it can quickly reach bandwidth/request limits. And even though the per day Dropbox bandwidth limits can seem on the low side, it's worth mentioning Dropbox actually offers one the most generous and transparent bandwidth quotas for file cloud storage providers.
If you're looking for cloud storage to distribute anything that has the potential to go viral on social media, a better option is to look for a metered bandwidth solution (i.e. where you pay per GB of bandwidth) such as those offered by application cloud storage providers or more specialized file cloud storage providers for photo cloud storage or video cloud storage.
Dropbox accessibility & shareability
Dropbox offers one of the largest sets of tools in the file cloud storage market to access its platform. You can access Dropbox directly through any browser via dropbox.com, as well as through one of the many native applications available for Windows, Mac, Linux, Android, iOS, Windows Phone & Kindle Fire devices. In addition, Dropbox also offers an Application Programming Interface (API) in which it's possible to create custom applications that interact directly with any account and its files in the Dropbox platform. So if you want to access your file cloud storage from many different types of devices and environments, you won't find a better option than Dropbox.
Dropbox files can be shared with any Dropbox user, as well as with non-Dropbox users through shared links. Shared links are available for all Dropbox accounts (Basic, Pro & Business) and can be created and revoked in a few seconds on both files and folders. As an added feature, payed Dropbox accounts (Pro & Business) have the ability to create shared links with an expiration date and/or password. All shared link types (standard, with an expiration date and password protected) have become a staple for almost all file cloud storage providers, so in this sense there's nothing special about Dropbox shared links.
Once a file is placed on the Dropbox folder, it's synced to the cloud and becomes available on any other device that connects to the account, effectively functioning as a backup. This means that whatever happens to the device where the original files came from (e.g. it breaks or is lost), there will always be a backup of the same files in the cloud.
Notice the emphasis on the Dropbox folder in the previous paragraph, which can be as much a benefit as it can be a drawback depending on the nature of a backup you need. Having to place files on the Dropbox folder makes the process easier because it creates a single syncing point. So in other words, you can't just make any folder a Dropbox folder (e.g. C:\\Documents\), you can just create sub-folders in your one and only Dropbox folder.
So for example, to backup files on a generic folder (e.g. C:\\Documents\) you'll either have to copy the files to your Dropbox folder and create a link/shortcut/alias * to the generic folder or live with two sets of the same files in different locations -- one on the generic folder and the other on the Dropbox folder. The latter option is a non-starter because it just leads to two different versions of the same file and while the former option may be workable, it's suboptimal because working with links/shortcuts/aliases can become messy and unworkable for certain applications (e.g. a database application that must update its files on a direct path under the C:\ local drive).
Therefore although the Dropbox syncing mechanism is simple because of its single entry point, Dropbox isn't able to adapt to your current file folder structure (e.g. multiple syncing points), rather your file folder structure must adapt to Dropbox's folder. For many this is show-stopping feature. So if you're in this group, be advised Dropbox has no plans to support this feature *, which is actually solved pretty well by other file cloud storage providers with technology like WebDAV.
Dropbox backups & reliability
Dropbox also supports three different backup levels each corresponding to their three different types of accounts: Basic (free), Pro and Business.
Basic (free).- 30 days. All changes made to files are kept for 30 days, so you can revert a file to a prior state or recover a deleted file 30-days into the past.
Pro.- 30 days or 365 days. By default, all changes made to files are kept for 30 days, but this can be increased to 365 days by purchasing EVP (Extended version history) for $3.99/month or $39.00/year.
Business.- Unlimited. All changes made to files are kept for the lifetime of the account, so you can revert a file to a prior state or recover a deleted file to any point the past.
If you plan to change files constantly, then these Dropbox backup levels are second to none among file cloud storage providers, as they allow easy recovery to a file's previous states. Although 30 day backups for the Basic (free) and default Pro Dropbox account can seem on the low-side, you won't find anything close in length with competitors -- except rolling backups with shorter time frames -- never mind finding an unlimited backup feature like the Dropbox business account.
Dropbox group collaboration
Besides the points mentioned in the accessibility & shareability section which favor team productivity, Dropbox also offers a series of features aimed at groups.
Dropbox Business accounts have the ability to share the same files with up to 5 users. Unlike shared links which can technically allow a group of users to share the same files, a Dropbox Business account allows users to establish tighter and more granular file sharing by simply accessing their account (i.e. with less hassle than sharing individual links).
The cost to share Dropbox files using a Business account comes to $12.50 (USD) a month per user, requiring at least 5 users per account, so at a minimum the cost to share files in this form comes to $75 (USD) a month. If you need to share an account's files with more users, then you'll need to buy more Business licenses at the same $12.50 (USD) a month per user or you will have to rely on shared links.
Dropbox integrated group support is among the most expensive for file cloud storage providers, coming in at $12.50 (USD) a month per user. Although it's worth mentioning the cost per user/group is this high primarily because it also includes 1 TB of storage per user added to the account (e.g. a 10 user Dropbox Business account gets 10 TB of storage). So if you're interested in adding 1 TB of storage for every user in a group, Dropbox may then be considered cost effective in this area. If you're just looking to share files with a large group of users in a tight manner (i.e. without individual links) and are not interested in additional storage space per user, Dropbox is a very expensive solution compared to other cloud storage providers that charge a fraction of the cost per user.
Dropbox also supports the ability to comment on files. Comments are enabled by default on all files on a separate pane, as illustrated on the right-hand side of the following figure.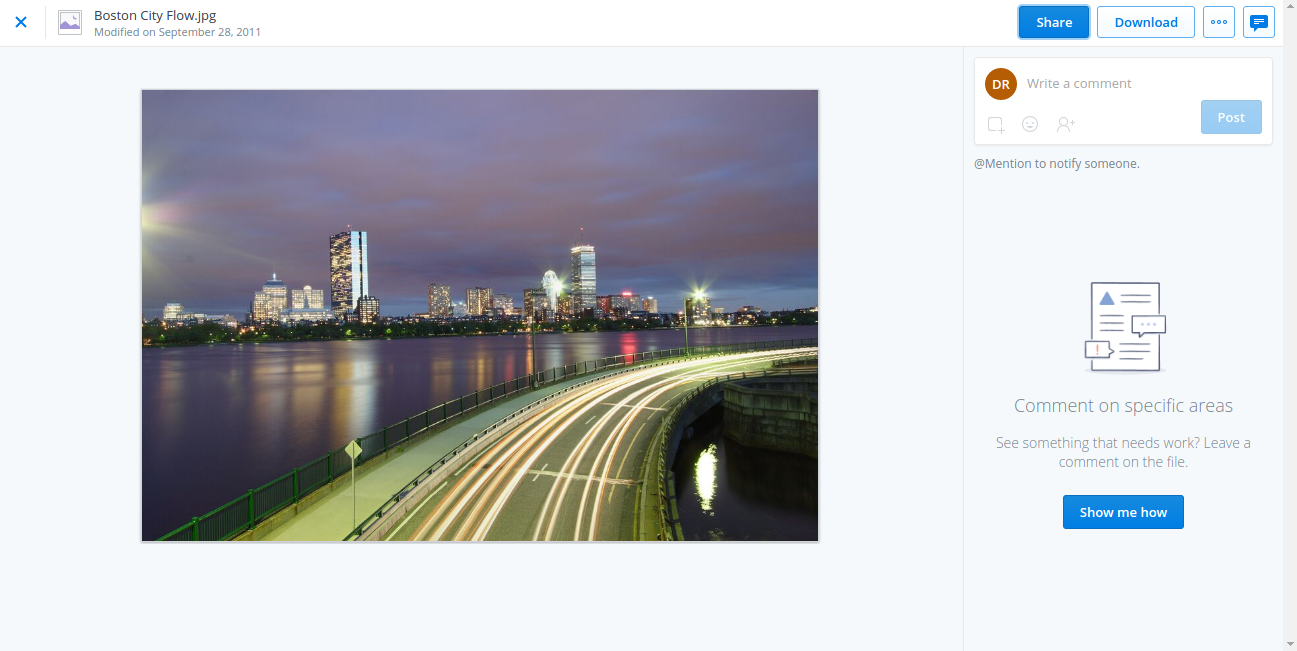 This means there can be lively discourse among all the users with access to a file without altering a file's content. Comments can be made on a file as a whole or on specific parts of a file, the latter of which is particularly helpful on long text documents because it helps keep focused discussions. Comments can be disabled on all files if required. Dropbox comments are unique among file cloud storage providers, so if you like this feature stick to Dropbox because you won't find anywhere else.
When you share Dropbox files -- either directly with another Dropbox user or through a shared link -- another user is capable of viewing and downloading files, however, a user is not allowed to edit the file itself. To let other users edit your Dropbox files you have two alternatives:
Let a user download your file and make his own version separately, later he can share you his new version and you can overwrite the original file yourself -- see prior backups & reliability section to revert in case of unacceptable changes.
Share a folder with the files you wish to allow editing on, a user can then overwrite the original file himself -- see prior backups & reliability section to revert in case of unacceptable changes.
Dropbox security & privacy
Out of the box, Dropbox abides by pretty much standard cloud storage security practices *. The transit of files is done through SSL/TLS -- that small green lock besides a browser's URL address bar -- which creates a secure tunnel protected by 128-bit or higher AES encryption, ensuring communication between your devices and Dropbox is secure. While the storage of files themselves is encrypted using 256-bit AES, ensuring the files aren't tampered with while in the cloud.
In addition to a standard password, a Dropbox account can also be enabled with two-step verification *. Two-step verification ensures that in addition to introducing an account's password to gain access to your Dropbox account, you must also provide a six-digit security code that's sent to your smartphone at the same time. This ensures a heightened level of security, so even in the event your regular Dropbox password is breached, an attacker would also need access to your smartphone to gain access to the account.
Another security feature that's available for Dropbox paid accounts (Pro & Business) is called remote wipe *. In the event a device linked to your Dropbox account is lost or stolen, there's a security vulnerability the Dropbox files on said device will be breached since Dropbox keeps all your files synced between devices. A remote wipe allows you to trigger a deletion process for all Dropbox files on a device, in case you no longer physically control it. So if you have a propensity to be careless with your devices and want to store sensitive information on the cloud, Dropbox's remote wipe is unique feature that can be a life saver.
Dropbox has an extensive privacy policy *. Because Dropbox is a global corporation, it operates across multiple jurisdictions which means it must comply with multiple statutes, albeit it's overseen by the U.S Federal Trade Commission.So if you have any qualms about your file cloud storage provider falling under the jurisdiction of U.S, European, Swiss or other authorities, Dropbox may not be the best choice in terms of privacy given its global footprint -- there are actually a series of cloud storage providers that have emerged to tackle this potential privacy issue alone.
Dropbox photos & videos
Among file cloud storage providers, Dropbox has one of the better functionalities to work with photo and video files. For example, it has a dedicated media option -- called Photos -- that automatically detects all your account's photos/videos so you can arrange them in a timeline (i.e. by their date) as well as group them in albums. In addition, this same Photos functionality comes with built-in carousels, previews and zoom features like you would expect when browsing photos/videos on any modern web-site.
For photos, Dropbox basic accounts offer the feature where photos can be automatically uploaded to Dropbox after they're taken with a camera, avoiding the need to manually copy/paste photos into Dropbox. Due to the nature of paid accounts (Pro & Business) this automatic photo upload feature is not available and therefore photos must be manually added to Dropbox for paid accounts.
Finally, although Dropbox does allow videos to be viewed on its site, there's a 15 minute streaming limit for Basic and Business accounts on shared videos. This streaming limitation does not apply to Business accounts or if you're the owner of the video, in which case you can view the video in its entirety. In addition, this streaming limitation only applies to videos streamed through dropbox.com, video streaming is not limited if the viewing is done through a Dropbox native application (e.g. Windows, Mac, Android, etc). So if you plan to share lengthy video files with non-Dropbox users, there are better alternatives dedicated to video cloud storage that can be a better fit than Dropbox.