Flickr was founded in 2004 [1] which makes it one of the earliest photo & video cloud storage providers in the market. Flickr has gone through four ownership changes throughout the years.
Flickr was initially created and owned by the small Canadian firm Ludicorp, it was then acquired by Internet giant Yahoo and was next owned by the telecommunication giant Verizon -- technically Oath Inc., a subsidiary of Verizon Communications -- through its acquisition of Yahoo [2] and is currently operated by SmugMug [3] -- a photo and video sharing service in its own right -- that for the time being has decided to keep the Flickr brand and run it separately from SmugMug.
Flickr offers a free photo/video cloud storage plan and paid plans for $5.99 (USD) a month or $49.99 (USD) a year which averages $4.17 (USD) a month.
Flickr storage
A Flickr free account is limited to 1000 photos and videos, making it a weak option in terms raw storage capacity. For example, if you consider low resolution smartphone photos are on average 2-3 MB, it means a Flickr free account can cap out at 2-3 GB of storage. Although if you get crafty playing around with Flickr file limits you may be able to squeeze up to 1 TB of storage out of a Flickr free account by storing the maximum allowed file sizes (e.g. photo files are limited to 200 MB and video files are limited to 1 GB).
Once you reach Flickr's 1000 photo/video free storage limit, Flickr offers a Pro unlimited storage plan. Much like other cloud storage service providers, the term unlimited for storage is part marketing ploy and part business strategy. The combination of Flickr file limits along with prior knowledge of usage patterns -- such as former Flickr product manager Rajiv Vaidyanathan stating in a 2015 interview : "fewer than 100 members in the history of Flickr have exceeded the one free terabyte of storage we provide"[4] -- makes the decision to offer unlimited storage a savvy strategy to attract more users and still be able to support a small minority requiring abnormal storage capacity.
Flickr ads
One of the major differences between a Flickr free account and a Flickr paid account is ads. All Flickr free accounts have advertisements, so everytime you visit Flickr's website to upload a photo/video or you share a photo/video file with a friend, an advertisement is placed toward the top or bottom of the screen to defray the costs of the account. For example, the following figure illustrates Flickr's upload page with an advertisement toward the bottom of the screen.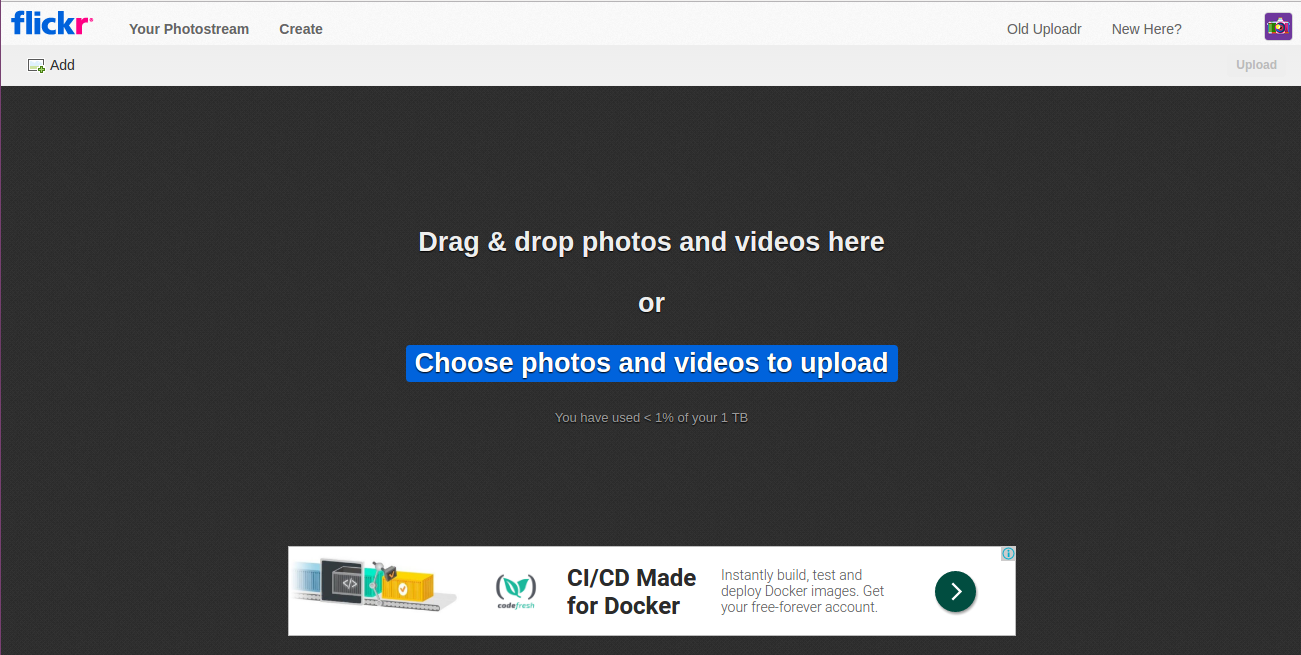 To get rid of Flickr ads you can upgrade to a paid account, which costs either $5.99 (USD) a month or $49.99 (USD) a year. There are other benefits to paying for a Flickr account [5], but getting rid of ads because of their obtrusiveness or privacy issues and unlimited storage is generally why many people decide to pay for a Flickr account.
Flickr bandwidth, download and file limits
Flickr offers unlimited bandwidth and download quotas for all its plans. Although there's no official statement on their limits page about this feature, there are multiple community posts confirming this fact[6]. Since free Flickr plans are supported through advertistments, it's a reasonable expectation to have unlimited bandwidth and download quotas, since each visitor has the potential to generate revenue. Flickr paid plans on the other hand rely on user payments to defray the costs of bandwidth and downloads.
Flickr does however establish limits on the size of files you can store [7]. In terms of size, photo files are limited to 200 MB in size, where as video files are limited to 1 GB. Another albeit edge case restriction for photo files is they can be no more than 31.25 times wider than they are tall, which can be an issue for extra wide panoramic photos. Videos streaming is also limited to the first 3 minutes, which is rather strict compared to other cloud storage providers that support video.
Flickr photo and video formats
If you're a serious photograph enthusiast, Flickr may be a little bit of a let down in terms of formats, since it only supports three mainstream photo formats: JPEG, PNG and GIF (non-animated) [8]. Any other photo format is converted by Flickr into JPEG. In terms of video, Flickr supports a wider array of video formats that include: MP4, AVI, WMV, MOV, MPEG, 3GP, M2TS, as well as the newer formats OGG and OGV [8].
Although photo formats are limited to three types, Flickr compensates in the photo feature set by automatically creating multiple photo sizes. Besides storing your original photo file 'as is', Flickr also offers the ability to access multiple sizes of the same photo, as illustrated in the bottom right of the following figure.
Different photo sizes are particularly helpful if you plan to take high-resolution photos (e.g. in the event of printing them), while at the same time sharing or accessing photos on different devices (e.g. a smartphone with a small screen only requires small-resolution photos).
By default, Flickr uses the 'best display size' depending on the medium where a photo is accessed, but you can change this to a fixed size for all photos [9]. Similarly, by default access to the original photo version is always available, unless you disable it [10]. More details about restricting photo access are provided in the next section on shareability.
Flickr accessibility & shareability
Access to Flickr as an uploader is differentiated if you have a free or paid account. Channels available for all accounts are through a standard browser via https://www.flickr.com/, as well as mobile apps for Android and iOS [11]. In addition, all Flickr accounts also support the ability to email photos/videos to a special email after which they are posted to a Flickr account[12].
However, Flickr's Desktop apps -- available for Windows and MAC operating systems -- are only available for Pro accounts (i.e. paying users). In this area, Flickr is the only cloud storage provider that restricts access to apps, with the intention to charge for them. While Flickr's paid plans are very competitive in terms of pricing at $5.99 per month or $49.99 per year for unlimited storage -- which also includes removal of ads -- paying for the ability to upload photos to Flickr from a Desktop is something many users are not prepared to do, so be forewarned if you want to upload photos from a Desktop that this isn't available in Flickr free accounts.
Flickr is designed with a sharing mindset [13], so by default all your photos and videos live on Internet links for the world to see, but you can of course restrict access to a more limited audience. You can enable photos and videos to only be visible to yourself, your friends, your family, other Flickr members or the public at large [14]. In addition, it's also possible to restrict who can download your Flickr photos/videos [15].
Besides standard photo and video links which are regulated by the previous access permissions, Flickr also supports two other types of links. Guest pass links [16] are intended to share private photos and videos with any user, irrespective of other underlying permissions (i.e. anyone with a guest pass link is able to access the photo or video). In addition, Flickr also offers personalized account links [17], which allow your account's main page to be associated with a memorable web address.
In addition, Flickr also supports the ability to automatically share photos/videos with linked social media platforms that include: Facebook, Twitter and Tumblr [18]
Another feature available on all Flickr accounts is support for tags. Tags allows you to add up to 75 keywords/phrases to each photo/video to make it more discoverable[19]. For example, with tags (e.g. Birthday, World Series) you can easily pinpoint photos and videos from among dozen or hundreds of possibilities.
Another thing that can be shared in Flickr photos and videos is Exchangeable Image File(EXIF) data[20]. EXIF data is a standard supported by many camera and smartphones that embeds metadata in a file. The following figure illustrates a series of EXIF fields displayed on a Flickr photo.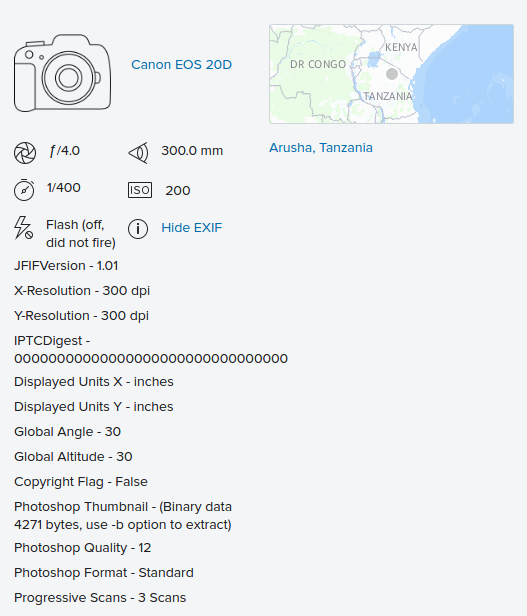 As you can see, EXIF fields for a photo can include a camera's aperture & exposure time, as well as things like a photo's date and geolocation. Keep in mind EXIF data is generated by the device used to take a photo or video, so the device itself must support or be EXIF enabled. Because EXIF data can be potentially sensitive, Flickr also provides the option to make EXIF data private [21].
Flickr security & privacy
Flickr like most commercial websites uses SSL/TLS -- that small green lock besides a browser's URL address bar -- to create a secure tunnel protected by 128-bit or higher AES encryption, ensuring communication between your devices and Flickr is secure. In terms of account security (e.g. sign-in, password management), since Flickr was Yahoo's flagship photo sharing service, it still relies on Yahoo's infrastructure to support this security aspect[22], albeit since the acquistion of Flickr by SmugMug, there's a distinct possibility Flickr's infrastrcuture will be moved in time to SmugMug [23]
As it was mentioned in the previous section on shareability, Flickr defaults to being a public ecosystem of photos and videos. In this sense, you must be extra vigilant of all Flickr photo and video settings since they lean toward public sharing rather than privacy. Besides what has already been mentioned in terms of sharing and permissions, Flickr also offers the ability to assign copyright licenses to all photos and videos.
By default, Flickr assigns an "All Rights Reserved" copyright license to all content, however, it's possible to use a less restrictive copyright licenses from Creative Commons (e.g.'Public Domain Work', 'Attribution-ShareAlike', 'Attribution-NonCommercial')[24][25].